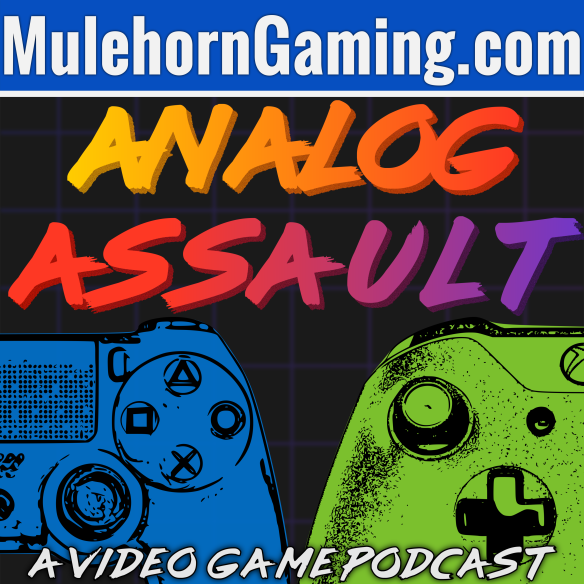 Analog Assault Episode 11: Single-Player Games Are Dead & Destiny's Data Dump
Recorded on Thursday, October 26, 2017.
13 original Xbox titles have finally made it to the backwards compatibility program on Xbox One. We'll quickly go over the games, and Wade delves a bit further into one particularly well-loved classic making a return. Hint: It's Star Wars.
Recently, Phil Spencer and Shannon Loftis of Xbox have commented on the current state of single player games. The Mules share thoughts on our gaming ecosystem and how single-player titles can still fit in.
Destiny 2 has officially launched on the PC, and with it comes the predictably juicy news of data miners sharing their bounties. We'll talk briefly about some of the contents of one such mining report, as well as some of the changes Bungie is bringing to Destiny 2 according to the recent This Week at Bungie.
Your submissions to Shots Fired ask us about our favorite weapons, gaming setups, tearjerkers, and comparing Destiny 2 with Destiny 1.
If you want to be featured on the next episode's Shots Fired segment, tweet @mulehorngaming using #AskAnalog, hit us up on Facebook, or hop into our Official MHG Discord Server to chat it up!
Mulehorn Gaming on the Web: http://www.mulehorngaming.com
Mulehorn Gaming on Facebook: https://www.facebook.com/Mulehorngaming
Mulehorn Gaming on Twitter: https://twitter.com/mulehorngaming
Mulehorn Gaming Discord Chat: https://discord.gg/0xsJcrgy9oRQUf8A
Mulehorn Gaming Patreon Page: https://www.patreon.com/MulehornGaming
Our podcast is supported by some amazing people known as patrons. If you want to help out, please visit our Patreon page and make a commitment! Your small monthly donation can get you access to our Patreon Discord chat server, pre-podcast voice chat, MHG swag, monthly update videos from Wade, and a custom Twitter banner! Plus, it helps us create awesome giveaways and keep up the explosive action!
And remember… When in doubt, blow it up!
Podcast edited by Circuit Sound
https://twitter.com/CSPodcasts
----------
Music used:
Neuro Rhythm by Aaron Spencer https://machinimasound.com/music/neurorhythm