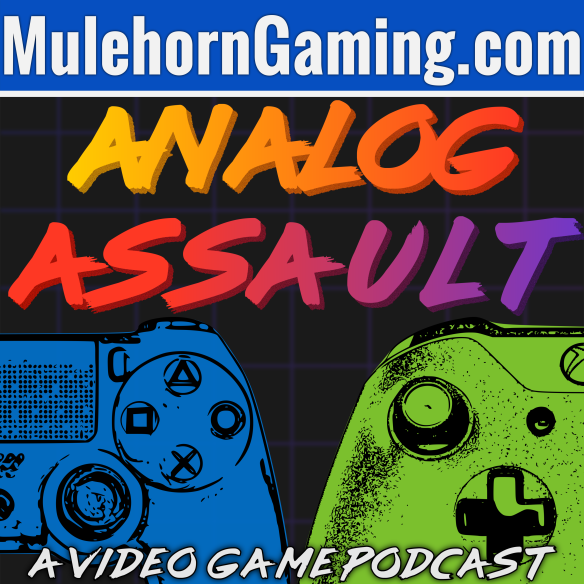 Analog Assault Episode 41: Solar Purge w/ Lead Designer Josh Carter
Recorded on Thursday, August 9, 2018.
At PAX South 2017, we became friends with a charming group of developers from Dallas, Texas. These developers are Hitscan, and their game is Solar Purge. Think: Diablo in space.
Stranded in a strange galaxy, the only hope for survival is to explore and tame this wild corner of the universe. Join up to three friends in this top-down, sci-fi story campaign featuring procedurally generated worlds.
Lead Designer Josh Carter joins us to chat about Solar Purge, creating an indie game, making mistakes, and working towards success in a tough industry.
If you want to be featured in our Shots Fired segment, tweet @mulehorngaming using #AskAnalog, hit us up on Facebook, or hop into our Official MHG Discord Server to chat it up!
Watch live on Thursdays @ 8:30 PM CST! https://mixer.com/mulehorngaming
Become a supporter: https://www.patreon.com/MulehornGaming
Mulehorn Gaming on the Web: http://www.mulehorngaming.com
Mulehorn Gaming on Facebook: https://www.facebook.com/Mulehorngaming
Mulehorn Gaming on Twitter: https://twitter.com/mulehorngaming
Mulehorn Gaming Discord Chat: https://discord.gg/0xsJcrgy9oRQUf8A
Our podcast is supported by some amazing people known as patrons. If you want to help out, please visit our Patreon page and make a commitment! Your small monthly donation can get you access to Patron-only episodes, exclusive giveaways, our Patreon Discord chat server, pre-podcast voice chat, MHG apparel, monthly update videos from Wade, and a custom Twitter banner! Plus, it helps us create awesome giveaways and keep up the explosive action!
And remember… When in doubt, blow it up!
Analog Assault is produced by MulehornGaming.com, edited by Alex Hickman (@Circuit8), and has additional live production by Nate Johns (@NateJohns11).
Music used:
Analog Assault Theme by Alex Hickman - Become a patron for the ringtone!
Neuro Rhythm by Aaron Spencer https://machinimasound.com/music/neurorhythm