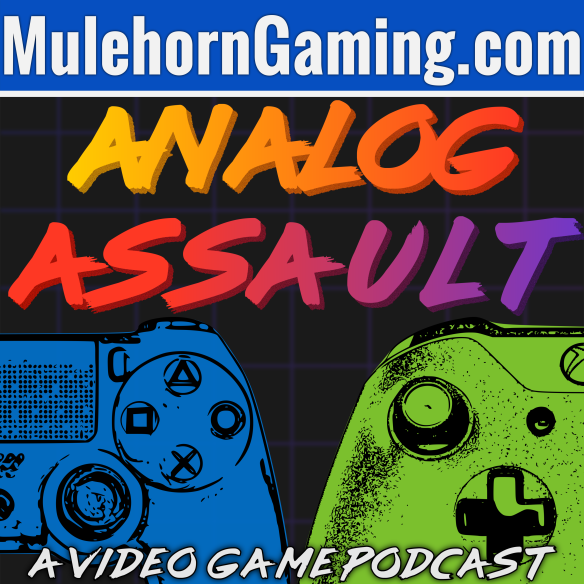 Analog Assault Episode 51: Danny Ramirez – Writer/Director of Vader Episode 1: Shards of the Past
Recorded on Thursday, January 3, 2019.
Happy New Year! We're kicking off 2019 with a very special treat. A Star Wars fan film has been making waves, and we were lucky enough to chat with the Director and Writer of Vader Episode 1: Shards of the Past, Danny Ramirez. The quality of this fan film, published by YouTube channel Star Wars Theory, is unrivaled in quality. We highly recommend watching the film prior to listening to this episode!
Watch Vader Episode 1: Shards of the Past here - https://youtu.be/Ey68aMOV9gc
Star Wars Theory on YouTube - https://www.youtube.com/channel/UC8CbFnDTYkiVweaz8y9wd_Q
Danny Ramirez on YouTube - https://www.youtube.com/channel/UCC75cpd_nwlRR54PjPuFJbw
Listen to Danny relate his experience helping to create an epic Star Wars fan film, and learn his origin story along the way.
If you want to be featured in our Shots Fired segment, tweet @mulehorngaming using #AskAnalog, hit us up on Facebook, or hop into our Official MHG Discord Server to chat it up!
Watch live on Thursdays @ 8:30 PM CST! https://mixer.com/mulehorngaming
Become a supporter: https://www.patreon.com/MulehornGaming
Mulehorn Gaming on the Web: http://www.mulehorngaming.com
Mulehorn Gaming on Facebook: https://www.facebook.com/Mulehorngaming
Mulehorn Gaming on Twitter: https://twitter.com/mulehorngaming
Mulehorn Gaming Discord Chat: https://discord.gg/0xsJcrgy9oRQUf8A
Our podcast is 100% listener-supported. If you want to help out, please visit our Patreon page and make a commitment! Your small monthly donation can get you access to Patron-only episodes, exclusive giveaways, our Patreon Discord chat server, pre-podcast voice chat, MHG apparel, monthly update videos from Wade, and a custom Twitter banner! Plus, it helps us create awesome giveaways and keep up the explosive action!
And remember… When in doubt, blow it up!
Analog Assault is produced by MulehornGaming.com, edited by Alex Hickman (@Circuit8), and has additional live production by Nate Johns (@NateJohns11).
Music used:
Analog Assault Theme by Alex Hickman - Become a patron for the ringtone!
Neuro Rhythm by Aaron Spencer https://machinimasound.com/music/neurorhythm