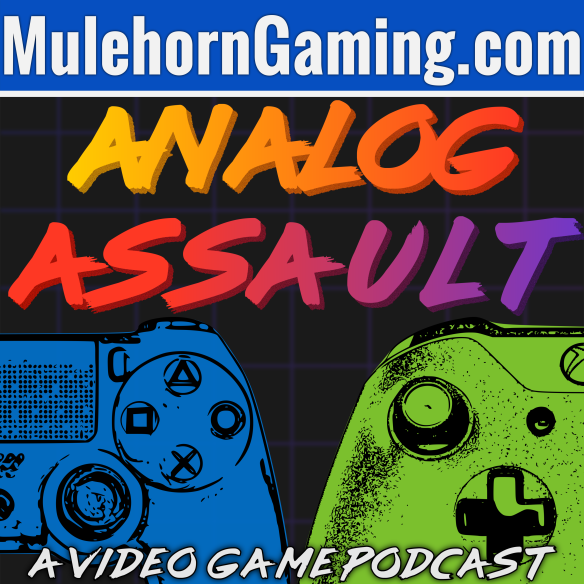 Analog Assault Episode 9: Shadow of War Impressions, Star Wars: The Last Jedi Teaser
Recorded on Thursday, October 12, 2017.
This week, we're diving helmet-first into Mordor and talking about Shadow of War! MulehornGaming.com contributor and gaming bud, NateJohns is our special guest. He'll be taking us through some of his initial impressions of Shadow of War, explaining several of the in-game systems and experiences.
Naturally, the inclusion of microtransactions in Shadow of War has been a point of some controversy. They're also present in another new title, Star Wars Battlefront II. We discuss microtransactions as a trend in gaming, and whether they belong in single-player games, multiplayer games, and mobile titles.
The latest teaser trailer for Star Wars: The Last Jedi appeared recently. With it, I felt a great disturbance in the Force, as if millions of voices suddenly cried out in terror… I kid. But, the internet is having a heyday with some of the scenes in the trailer, including what some consider to be spoilers for The Last Jedi. We're going to dish on how we liked the teaser trailer, and then dig in to some of our concerns and points of interest.
Submissions for Shots Fired cover mostly Destiny 2 and Star Wars, with a bit of 90's nostalgia and superhero discussion.
If you want to be featured on the next episode's Shots Fired segment, tweet @mulehorngaming using #AskAnalog, hit us up on Facebook, or hop into our Official MHG Discord Server to chat it up!
Mulehorn Gaming on the Web: http://www.mulehorngaming.com
Mulehorn Gaming on Facebook: https://www.facebook.com/Mulehorngaming
Mulehorn Gaming on Twitter: https://twitter.com/mulehorngaming
Mulehorn Gaming Discord Chat: https://discord.gg/0xsJcrgy9oRQUf8A
Mulehorn Gaming Patreon Page: https://www.patreon.com/MulehornGaming
Our podcast is supported by some amazing people known as patrons. If you want to help out, please visit our Patreon page and make a commitment! Your small monthly donation can get you access to our Patreon Discord chat server, pre-podcast voice chat, MHG swag, monthly update videos from Wade, and a custom Twitter banner! Plus, it helps us create awesome giveaways and keep up the explosive action!
And remember… When in doubt, blow it up!
----------
Music used:
Neuro Rhythm by Aaron Spencer https://machinimasound.com/music/neurorhythm