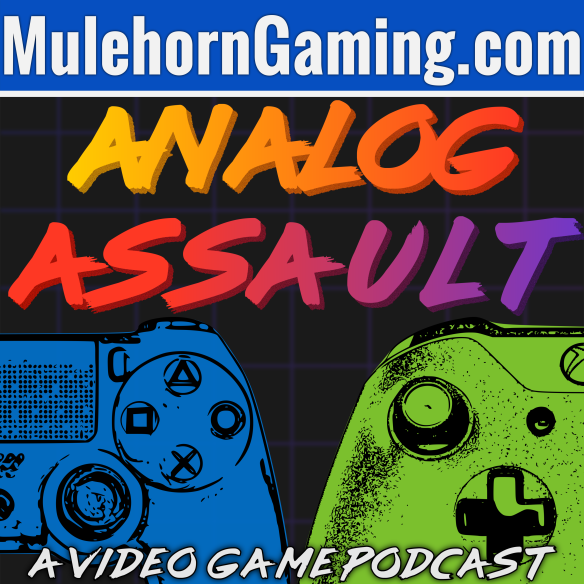 Analog Assault Episode 16: Live @ PAX South '18 w/ Rick from Kingdom Come: Deliverance
Recorded on Saturday, January 13, 2017.
Happy new year, listeners! After many holiday trips, meals, and diseases, the cast of Analog Assault is (mostly) back together to report live from PAX South in San Antonio, Texas! Kurt couldn't make it, but Wade and Alex play host to a number of MHG contributors and friends.
We are SUPER lucky to have Rick Lagnese on this episode. He's the US Community Manager for Warhorse Studios, the developers behind Kingdom Come: Deliverance. Rick tells us about the game and shares some great stories from his past.
This cast was a blast to record, and we hope you enjoy hearing all about PAX South and some of the fantastic titles we were able to get our hands on.
If you want to be featured on the next episode's Shots Fired segment, tweet @mulehorngaming using #AskAnalog, hit us up on Facebook, or hop into our Official MHG Discord Server to chat it up!
Mulehorn Gaming on the Web: http://www.mulehorngaming.com
Mulehorn Gaming on Facebook: https://www.facebook.com/Mulehorngaming
Mulehorn Gaming on Twitter: https://twitter.com/mulehorngaming
Mulehorn Gaming Discord Chat: https://discord.gg/0xsJcrgy9oRQUf8A
Mulehorn Gaming Patreon Page: https://www.patreon.com/MulehornGaming
Our podcast is supported by some amazing people known as patrons. If you want to help out, please visit our Patreon page and make a commitment! Your small monthly donation can get you access to our Patreon Discord chat server, pre-podcast voice chat, MHG swag, monthly update videos from Wade, and a custom Twitter banner! Plus, it helps us create awesome giveaways and keep up the explosive action!
And remember… When in doubt, blow it up!
----------
Music used:
Neuro Rhythm by Aaron Spencer https://machinimasound.com/music/neurorhythm